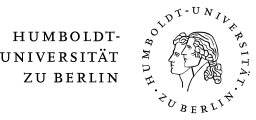 Courses
The Department of the History of Education is not only anchored in the national as well as the international research community, it is also closely integrated in university teaching. Our lectures target Bachelor and Master students in the subjects of Educational Studies as well as in several teaching degree programs. In the context of the respective study and examination regulations, the different research priorities of our staff comes into effect in regards to their manifold thematical, theoretical-methodical, epochal as well as geographical interests.
Overview of ongoing lectures (arranged alphabetically by teaching persons) in the online course catalog AGNES
---
Winter Term Courses 2019/20:
(Please follow the link in the title for further details.)
FS MA EW 6.2. |54175| Do., 14:00-16:00 Uhr | R. 2093, UL 6
   Caruso, Reh: Bildungsgeschichtliche und kulturwissenschaftliche Forschungen der   Gegenwart
SE BA/MA EW - Zusatzangebot |54179| Einzeltermine, siehe Link 
  Alarcón: "Mausoleum der Moderne"? Historisch-vergleichende Perspektiven zur Bildungsgeschichte Lateinamerikas.
HS BA EW 8.2. - |54178| Di., 10:00-12:00 Uhr | R. 0.02, SO 22
   Alarcón: Als die Psychometrie in die Schule kam: Eine bildungshistorische Perspektive zu den Ideen, Reformen, Praxen, Instrumenten und Akteuren der schulischen Testdiagnostik
HS BA EW 8.2. |54177| Di., 12:00-14:00 Uhr | R. 0.02, SO 22
   Caruso: Bildung, Erziehung und Psychoanalyse: Die Geschichte eines Versprechens
SE BA EW 5 |54171| Mi., 16:00-18:00 Uhr | R. 219/220, MO 40
   Schatz: Bildung und Erziehung im Nationalsozialismus (1933-45)
SE  BA EW 5 |54176| Do., 12:00-14:00 Uhr | R. 0008, HV 5
   Caruso: Fundamentale Segmentierung: Kastensystem, Meritokratie und Bildung in der modernen indischen Bildungsgeschichte
SE BA EW 5 |54174| Mi., 16:00-18:00 Uhr | R. 202, DOR 26
   Caruso: Geschichte der deutschen Elementarschule: Ideologien und Technologien
SE MA EW 1 |54173| Do., 12:00-14:00 Uhr | R. 306, BU 26
   Reh: Macht, Wissen und die Regierung der Subjekte
VL BA EW 5 |54170| Mi., 14:00-16:00 Uhr | R. 207, DOR 26
   Caruso: Ordnung für die Massen: Die Entstehung der Pflichtschule in der westlichen Moderne
SE BA/MA EW - Zusatzangebot |54172| Mi., 12:00-14:00 Uhr | R. folgt
  Schatz: Schule im Nationalsozialismus (1933 - 45)
FP Lehramt Praxissemester |54333| Einzeltermine, siehe Link | R. 124, GS 7
  Alarcón: Schule und Unterricht erforschen (ISS und Gymnasium) - Gruppe 6