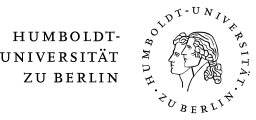 Courses
The Department of the History of Education is not only anchored in the national as well as the international research community, it is also closely integrated in university teaching. Our lectures target Bachelor and Master students in the subjects of Educational Studies as well as in several teaching degree programs. In the context of the respective study and examination regulations, the different research priorities of our staff comes into effect in regards to their manifold thematical, theoretical-methodical, epochal as well as geographical interests.
Overview of ongoing lectures (arranged alphabetically by teaching persons) in the online course catalog AGNES
---
Winter Term Courses 2020:
(Please follow the link in the title for further details.)
Ankündigung aufgrund der aktuellen Gefährdungssituation durch das Coronavirus:
Das Blockseminar "Revolution der Unterrichtsorganisation" beginnt am 25. April (siehe Ankündigung in Agnes)

Alle anderen Veranstaltungen von Herrn Caruso beginnen in der Woche von 27. April an. Sie erfahren aktuelle Informationen über Agnes.

In allen Veranstaltungen wird einen Moodle-Kurs eingerichtet. Für Ihre Einschreibung sind in Agnes weitere Informationen vorhanden.
 
Lehrveranstaltungen SoSe 2020:
(Für weitere Informationen bitte dem Link auf dem Veranstaltungstitel folgen.)
Digitales Angebot - Kolloqium MA EW 5.2. |54188| Do., 14:00-16:00 Uhr 
   Caruso, Reh: Bildungsgeschichtliche und kulturwissenschaftliche Forschungen der   Gegenwart
Digitales Angebot SE BA/MA EW - Zusatzangebot |54182| Mi., 16:00-18:00 Uhr 
  Caruso: Das Eigene und das Fremde: Eine Einführung in die Bildungsgeschichte Indiens
Digitales Angebot SE MA EW 5.2. - |54189| Do., 12:00-14:00 Uhr 
   Reh: Die wiederkehrende Angst der Pädagogik vor neuen Medien: Lesesucht, Zerstreuung und Augenflimmern
Digitales Angebot SE BA EW 4/10 |54273| Di., 12:00-14:00 Uhr 
   Caruso: Einführung in die Geschichte und Gegenwart lateinamerikanischer Bildungssysteme
Digitales Angebot BA/MA EW  - Zusatzangebot |54183| Blockveranstaltung 
   Caruso: Revolution der Unterrichtsorganisation: Jahrgangsklassen und die lange Entstehungsgeschichte des modernen Unterrichts